Cash Grain Markets
Hard Red Winter Wheat Cash Price
Ordinary Protein
11%
12%
-2
Fri PM
-2
Fri PM
-2
Fri PM
South Central MT
4.40-4.55
4.60- 4.75
4.75 - 4.90
Golden Triangle
4.49 - 4.73
4.65 - 4.84
4.76 - 4.97
Northeast MT
4.08 - 4.40
4.18 - 4.50
4.23 - 4.55
FOB Portland
+4 to 9
5.78 - 6.23
Mon PM
+4 to 9
5.92 - 6.37
Mon PM
+4 to 11
6.24 - 6.46
Mon PM
Dark Northern Spring Wheat Cash Prices
13% Protein
14%
15%
-1
Fri PM
-1
Fri PM
-1
Fri PM
South Central
MT
5.19 - 5.40
5.39 - 5.56
5.47 - 5.64
Golden Triangle
5.24 - 5.48
5.40 - 5.64
5.48 - 5.72
Northeast MT
4.89 - 5.26
4.97 - 5.34
4.97 - 5.38
FOB Portland
+1 to 10
6.72 - 6.90
Mon PM
+1 to 6
6.88 - 6.98
Mon PM
+1 to 14
6.96 - 6.98
Mon PM
Wheat / Durum / Barley Cash Prices
Soft White Wheat
Hard Amber Durum
Feed Barley
Steady
Mon PM
Steady
Fri PM
Steady
Fri PM
South Central MT
Golden Triangle
4.00
7.00 - 7.40
Northeast MT
4.50 - 4.55
FOB Portland
5.90 - 6.30

Wyoming / Nebraska / Colorado Cash Prices
Hard Red Winter Wheat
Yellow Corn
White Millet
-2
Fri PM
+2
Fri PM
Steady
Fri PM
S.E. WYO - S.W. NE
3.90 - 4.15
3.39 - 3.60
11.50 - 12.75
North Central COLO
4.14 - 4.50
3.84 - 3.94
Denver
4.37 - 4.50
3.94
Grain Market Commentary
DTN reports:
May contracts of corn, soybeans and all three wheats closed modestly higher Monday on light volume, encountering no visible opposition throughout the day. The June U.S. dollar index is trading moderately lower and other commodities are mixed to higher.
Wheat:
May K.C. wheat closed up 4 1/4 cents Monday at $4.49 1/4, continuing to work up from the $4.18 1/4 low made earlier in March, while warmer temperatures usher in spring in the southwestern U.S. Plains. NASS crop ratings have been favorable for Kansas so far, but after wet fall planting conditions and some bouts of sub-freezing temperatures this winter, we may learn more in the weeks ahead. Early Monday, USDA said 12.5 mb of wheat were inspected for export last week, well below the 28 mb needed to reach USDA's 965 mb export estimate by May 31. Fundamentally speaking, it is difficult to be bullish about winter wheat prices while U.S. wheat supplies are plentiful and HRW wheat exports remain sluggish. Technically, the trends in cash HRW and SRW wheat remain down, while the trend in cash HRS wheat is challenging the upper end of its sideways range. DTN's National HRW Index closed at $4.30 Friday, 15 cents under the May contract and up from its lowest prices in a year. DTN's National SRW Index closed at $4.41, also up from its lowest prices in a year.
Corn:
May corn ended up 1 1/2 cents at $3.79 3/4 Monday, holding support near its highest prices in March with help from last week's corn purchase from China and concerns about how planting season will go this spring given March flooding in the Western Corn Belt. At the same time, corn crops in South America are doing well with favorable crop moisture in Brazil and Argentina's harvest starting to make progress. Here in the U.S., export activity has slowed after a strong start in 2018-19. Monday's report from USDA showed 39.2 million bushels (mb) of corn inspected for export last week, below the 53 mb needed to reach USDA's export estimate of 2.375 bb by the end of August. So far in 2018-19, total inspections are up 23% from a year ago. Even if more export business was available, transporting corn remains difficult with flooding issues plaguing the nation's waterways. Fundamentally, the outlook for corn prices is neutral and the anticipation of big crops in South America is bearish. Technically, the trend in cash corn is up with support from commercial net longs and plenty of uncertainty about the year ahead. DTN's National Corn Index closed at $3.51 Friday, 28 cents below the May contract and back near its highest price in nine months. In outside markets, the June U.S. dollar index is down 0.19 and outside commodities are mostly higher.
Grain Futures
Links to Market Analysis
Ag Center – Cattle Report
Livestock Marketing Information Center
Kansas State – AgManager.info
North Dakota State – Livestock Economics
University of Missouri – Farm Marketing
CattleFax
Grain Market News
Grain News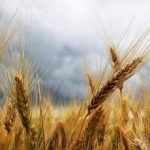 Arllington, Virginia — U.S. Wheat Associates (USW) and the National Association of Wheat Growers (NAWG) welcome today's announcement by President Trump and Brazilian President...
Read More