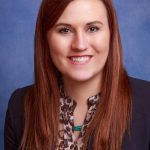 Amelia was raised near Red Lodge, MT and was actively involved in many extra-curricular programs. She got the most joy out of 4-H and FFA, holding offices in both organizations and representing Montana at multiple national conventions. During her time in FFA she was highly awarded in extemporaneous speaking and competed at National FFA in meat judging. Amelia earned an associate's degree in agricultural business in 2014 from Sheridan College. During her time at Sheridan College, Amelia was actively involved in PAS (National Post-Secondary Agricultural Student Organization) and in 2014 she won the national Impromptu speaking title.
Amelia joined the Northern Broadcasting team early in 2017. Before joining Northern Broadcasting, Amelia worked as a Service Manager for Wells Fargo in Gillette, WY. Her past work also includes range management, sales and property management just to name a few.
Amelia lives with her husband, Chad Siroky and their blue-heeler, Rosie near Park City, MT. They enjoy fishing, cooking, traveling, snowmobiling and visiting his parents at the Padlock Ranch in Ranchester, WY. Amelia is a 6th generation Montanan and spent many weekends growing up at her grandparents' ranch jokingly named the Woofagator Ranch at Forest Grove (population 10…maybe). Amelia also owns Prairie Smoke Beadwork where she makes custom loom-beaded pieces such as belts and hatbands.