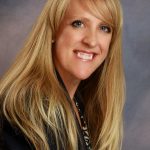 Born and raised in Billings, Bernadete has been with Northern Broadcasting as the Traffic Manager since January of 2018. As the face of the front office she has been said to have the best and most versatile position in the organization as she gets to interact with the entire NBS team, various community members and leaders and most importantly NBS' amazing network affiliates and clients.
Upon graduation from The University of Montana with a degree in Organizational Communication in 2001, Bernadete worked for 17 years in retail leadership and development with both Dillard's and Cabela's. This career path brought her to several states including Arkansas, Colorado, and Nebraska which provided some memorable experiences, connections with great people and the opportunity to try some amazing food! In the fall of 2017, Bernadete took a leap of faith by leaving her career in corporate retail and moved back to Montana with her whiskey aficionado Matt Heinz and bird dog, Sidney, in tow. They currently reside in a rural community northwest of the Laurel area.
Growing up in Montana she enjoys living the outdoor lifestyle participating in activities such as ultra-marathon trail running, paddle boarding, skiing, and bird hunting. Truly believing in the advice given to her early in her career about the importance of servant leadership, her volunteer activities have guided her to reconnect with the local Billings area while continuing to make Montana her forever home. Some future goals include participating in a 100-mile ultra-marathon, hiking the El Camino de Santiago in Spain and serving on a local non-profit board.