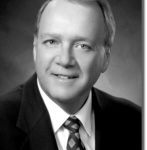 Brian Bennett brings nearly 30 years of broadcast experience to the Northern News Network. As network News Director, Brian produces eight daily newscasts covering Montana's biggest headlines and issues, with voice actualities from the newsmakers.
Brian grew up in Hazen, North Dakota, north of Bismarck. His introduction to radio was listening to WLS Chicago and KOMA Oklahoma City and this nightly ritual created a desire in him to "get into the magic of radio!" Following high school graduation he entered the Brown Institute of Broadcasting in Minneapolis and landed his first on-air job in 1967 at KFYR in Bismarck.
Like many of his generation, he was drafted and joined the Marines. He spent two years in San Diego where he found a way to continue in radio by taping programs for local stations. Following his service in the Marines, he returned to Montana in 1970 where he started at KGHL in Billings. His broadcast career took him to KBUL, KBMY and then back to KGHL where he continued for twelve years. During this time he was awarded a "City of Billings Day Proclamation" by the Mayor in 1990.
Brian's career moved him next to work for Reier Broadcasting's KOHZ (now KBBB) until moving to Bozeman, Montana where he worked for Reier's KBOZ. He remained there until 2006 when his broadcast adventure brought him to Northern Broadcasting System's Northern News Network. Today as the News Director of Montana's largest state news network, his experience and passion brings news into the homes and offices across Montana!