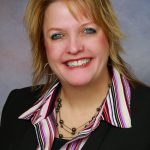 Denise Smith has a mixture of life experiences and education that gives her awareness of how to assist in making her hometown of Billings a great place to live. She is the youngest of seven and worked at the Cenex Refinery during the summers to pay for her Journalism Degree from the University of Montana. After graduation, she worked for a short time at KULR 8 before making her way to KCFW in Kalispell. When it was time to start raising a family, she also ventured out with her own company, Illusion Video Productions.
When the realization that having her two teenagers and three kids under the age of 4 falls asleep on the editing room floor every night was not a healthy way to raise a family, she began her work in the Non-Profit arena by working at the Kalispell Chamber of Commerce. She quickly rose through the ranks and went from part-time to Director of Operations in just 3 short years. Being recognized as a hard worker with a lot of tenacity, she was hired away from the Chamber by Senator Conrad Burns. During her time at the Senate, Denise was responsible for the issue areas of Economic Development, Telecommunications, Transportation, and the EPA. Working on behalf of the Senator, she was able to build a lot of relationships across the state. She did so by always striving to find the common ground between the constituents and the federal agencies. However, one of her proudest accomplishment during this time was being known as "Conrad's Pitbull", which was both a sign of respect by the agencies as well as an acknowledgment that whenever she was working on a constituent's case, the constituent was going to be made whole.
When her time at the Senate was over, she went to work for the Flathead Business and Industry Association, an organization whose work focused on advocating on behalf of the business communities of Northwest Montana. Again, Denise focused on finding the middle ground between building economically healthy communities, working with elected officials, and maintaining a healthy environment.
For the betterment of her kids, in 2010 she came home to Billings and began her work as the Executive Director of the Home Builders Association. In 2014 she made another career change when she went from "Parade of Homes to the homeless" and began her work as Director of Public Relations for the Montana Rescue Mission. When asked what she liked the most about that position, she will tell you she is thankful to have been able to her youngest two children and felt honored to give voice to the poorest of the poor in our community.
Earlier this year, Denise decided to dust off her Journalism Degree and put it back in use as the News Director for Northern News Network. Denise is excited about the opportunity to bring her knowledge on Statewide Issues to a broader audience, "I look forward to being able to utilize my vast number of contacts throughout this great State to provide critical information with solid journalism standards to our listeners. I will again utilize my ability to focus on what we can agree on, rather than what divides us."
In her spare time, she serves as the President to the Montana Association of Female Executives, the Chair of the City of Billings Human Relations Commission, and the Chair of Ram Jam, the Billings Central All-Night Senior Party.