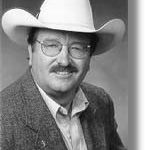 Since 1983, Jim Thompson's "On the Road Again" radio program has shared his sport with radio listeners in his home territory of the states of Montana, Wyoming, Nebraska, and the Dakotas. Jim says his goal is, "to keep listeners here in our area up to date on the current standings of their local cowboy heroes, and to have even non-rodeo fans hear enough about the sports, regularly enough to have a better appreciation of it…to hear names that perhaps they work with or live next to, and just may go watch as a result."
On radio stations across the 5-state Old West Region, the voice of Jim Thompson brings the original western sport to listeners every day. With a background in radio and television sports, this well-known rodeo announcer blends the best of two careers. He's a voted South Dakota Sportscaster of the Year. But since 1986, it's been rodeo, not radio, that has been his main ambitions. Across America, Jim Thompson is the Rodeo Announcer for nearly forty rodeos a year, and some of his past credits include announcing the Badlands Circuit Finals (13 times), the World Finals in El Paso, (the past 6 years), the National High School Rodeo Finals (the past 8 years), the College National Finals, the Indian National Finals, and the National Senior Pro Rodeo Finals.
Every weekday, on the Northern Sports Network affiliated radio stations across Montana and Wyoming, the voice of Jim Thompson takes listeners "On The Road Again" with local rodeo hands and with national champions…past, present and future!