Old irrigation structures tend to fail when they aren't updated or repaired in a timely manner. Producers learned that in southeast Wyoming when the Goshen/Gering-Ft. Laramie irrigation district's tunnel collapsed. Now, producers in northern Montana are dealing with a similar challenge.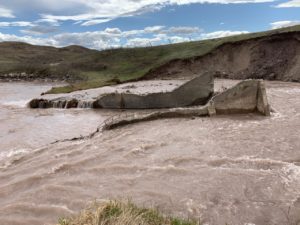 On May 17th, hydraulic drop 5 of the St. Mary Canal and Conveyance Works system collapsed north of Browning, MT near the Canadian border. This canal feeds over 110,000 acres of irrigated crop land, multiple municipalities, and popular recreational areas along the Hi-Line and in Canada. The structure has been in need of repairs for 20 years as other parts of the system have been questioned of its integrity.
Montana Department of Natural Resources and Conservation (DNRC) Director John Tubbs and Jeff Pattison, Hi-Line Producer and chair of the Milk River Watershed Alliance, discussed the issues of the St. Mary Canal on the statewide talk show Voices of Montana (VOM). Director Tubbs said that the Bureau of Reclamation found some of the infrastructure still intact and may be able to make temporary repairs to get it back in service.
"We have to act now," Tubbs stated, "we can not delay because if we do, this season is already lost."
Pattison told VOM that farmers and ranchers will have to foot much of the bill but they can't afford to keep repairing the old system. He was also concerned about what this means for irrigators down the line now that the farm work is nearly done.
"We've invested in chemical, fertilizer, seed and equipment and now this and we don't get water," Pattison said. "What do you do? You've got irrigatable ground with no water and you put all this investment into it. Then you have to pay, on top of it, to fix something that you don't even get anything back on a return. How do you amortize that?"
The State has offered technical and financial assistance to the irrigation districts as well as congressional members requesting Federal assistance from the President and more involvement from the Bureau of Reclamation. Director Tubbs estimates the repairs at more than five million dollars. Pattison says this issue needs addressed as it goes beyond irrigators but impacts wildlife, recreational activities, and helps drive local economies.
###
Voices of Montana – Northern News Network
Office of Montana Congressman Greg Gianforte
Office of Montana Senator Steve Daines
Pictures Courtesy of  Milk River Watershed Alliance
Northern Ag Network