Cash Grain Markets
Hard Red Winter Wheat Cash Price
Ordinary Protein
11%
12%
-4 to 5
Wed PM
-4 to 5
Wed PM
-4 to 5
Wed PM
South Central MT
3.92 - 4.07
4.12 - 4.27
4.27 - 4.51
Golden Triangle
4.15 - 4.34
4.23 - 4.50
4.29 - 4.63
Northeast MT
3.57 - 3.89
3.67 - 3.97
3.72 - 4.14
FOB Portland
-5
5.36 - 5.46
Wed PM
-5
5.56 - 5.66
Wed PM
-5
5.66 - 5.76
Wed PM
Dark Northern Spring Wheat Cash Prices
13% Protein
14%
15%
-2 to 3
Wed PM
-2 to 3
Wed PM
-2 to 3
Wed PM
South Central
MT
4.36 - 4.55
4.56 - 4.71
4.64 - 4.79
Golden Triangle
4.54 - 4.73
4.70 - 4.89
4.78 - 4.97
Northeast MT
4.15 - 4.49
4.23 - 4.57
4.23 - 4.61
FOB Portland
-3 to 13
5.82 - 5.86
Wed PM
-3 to 13
6.02
Wed PM
-3 to 13
6.02 - 6.10
Wed PM
Wheat / Durum / Barley Cash Prices
Soft White Wheat
Hard Amber Durum
Feed Barley
Steady to +5
Wed PM
Steady
Wed PM
Steady
Wed PM
South Central MT
Golden Triangle
4.00
6.50 - 6.75
Northeast MT
4.60 - 4.75
FOB Portland
5.75 - 6.20
Wyoming / Nebraska / Colorado Cash Prices
Hard Red Winter Wheat
Yellow Corn
White Millet
- 3 to 5
Wed PM
+1
Wed PM
Steady
Wed PM
S.E. WYO - S.W. NE
3.72 - 3.97
4.11 - 4.36
10.25 - 11.50
North Central COLO
3.87 - 3.97
4.42 - 4.56
Denver
3.87 - 3.97
4.56

Grain Market Commentary
AccuWeather predicts the 2019 U.S. yield for corn will be the lowest since 2012. A new AccuWeather analysis estimates there will be just over 13 billion bushels of corn, based on 167 bushels per acre on 78 million acres harvested. Continued rain and flooding so far have marred the 2019 growing season, with many farmers forced to plant corn far later than usual. That has also affected initial estimates of the condition of the corn, with historically low estimates of "good" or "excellent" the last three weeks of the U.S. Department of Agriculture's Crop Progress.
Find more details from AccuWeather here.
Across Northern Ag country, Montana is sitting at over 70% good to excellent, Wyoming corn has 83% in the top tier, North Dakota near 80% but South Dakota is struggling with only 62% good to excellent.
###
AccuWeather News
Northern Ag Network
Links to Market Analysis
Ag Center – Cattle Report
Livestock Marketing Information Center
Kansas State – AgManager.info
North Dakota State – Livestock Economics
University of Missouri – Farm Marketing
CattleFax
Grain Market News
Grain News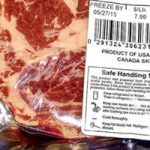 Bill Would Strengthen Security by Hiring Additional Agricultural Inspectors at Ports of Entry WASHINGTON, DC – U.S. Senators Gary Peters (D-MI), Ranking Member of...
Read More