Cash Grain Markets
Hard Red Winter Wheat Cash Price
Ordinary Protein
11%
12%
-6
Wed PM
-6
Wed PM
-6
Wed PM
South Central MT
4.35 - 4.50
4.65 - 4.80
4.90 - 5.05
Golden Triangle
4.38 - 4.71
4.64 - 4.87
4.79 - 5.02
Northeast MT
4.02 - 4.47
4.22 - 4.67
4.37 - 4.82
FOB Portland
-6
5.93 - 5.98
Thu PM
-6
6.13 - 6.18
Thu PM
-6
6.28 - 6.33
Thu PM
Dark Northern Spring Wheat Cash Prices
13% Protein
14%
15%
-4
Wed PM
-4
Wed PM
-4
Wed PM
South Central
MT
4.97 - 5.23
5.21 - 5.39
5.33 - 5.48
Golden Triangle
4.99 - 5.41
5.15 - 5.57
5.23 - 5.65
Northeast MT
4.53 - 4.98
4.81 - 5.26
5.01 - 5.46
FOB Portland
-7
6.48 - 6.85
Thu PM
-7
6.64 - 7.09
Thu PM
-7
6.72 - 7.21
Thu PM
Wheat / Durum / Barley Cash Prices
Soft White Wheat
Hard Amber Durum
Feed Barley
Steady
Thu PM
Steady
Wed PM
Steady
Wed PM
South Central MT
Golden Triangle
5.00 - 6.00
5.75 - 6.00
Northeast MT
5.95 - 6.40
FOB Portland
6.20 - 6.25
Wyoming / Nebraska / Colorado Cash Prices
Hard Red Winter Wheat
Yellow Corn
White Millet
-6
Thu PM
-2
Thu PM
Steady
Thu PM
S.E. WYO - S.W. NE
4.09 - 4.24
3.53 - 3.59
11.00 - 12.75
North Central COLO
4.42 - 4.49
4.07 - 4.14
Denver
4.49
4.14
Grain Market Commentary
February 20, 2020 @ 2:00 pm
DTN reports:
March contracts of corn, soybeans and all three U.S. wheats finished lower Thursday after USDA gave an early glimpse of what they expect for markets in 2020. The U.S. dollar index extended its gain for the year, trading at a new two-year high.
Wheat:
March Chicago wheat fell back 5 1/4 cents to $5.60 Thursday, moderating Tuesday's 24-cent gain, but also protecting the bulk of it. USDA's early estimates for wheat were slightly bullish with plantings expected to be slightly lower at 45.0 million acres. USDA's average farm price was pegged at $4.90 a bushel in 2020-21, up from $4.55 in the current season. Johansson explained the higher price estimate was related to USDA expecting the lowest ending U.S. wheat stocks in six years — a number that will be revealed Friday morning. Johansson also acknowledged saturated soils in the Northern Plains may delay or prevent planting of spring wheat in 2020. The latest U.S. Drought Monitor shows areas of dry concern in western Kansas and eastern Colorado, also southern Texas. Thursday's seven-day forecast expects moderate precipitation around Kansas and Missouri, heavier amounts in the southeastern U.S. February continues to be a time of quieter trading in wheat, punctured by occasional concerns of not having enough SRW wheat available. Sometime in April, the market will start to notice spring conditions around the globe. For now, the trends are sideways for all three cash wheats. DTN's National HRW Index closed at $4.56 Wednesday, still below its highest price in 11 months. DTN's National SRW Index closed at $5.57, down from its highest price in five years.
Corn:
March corn closed down 2 cents at $3.78 1/2, a modest bearish reaction to Thursday morning's presentation from USDA Chief Economist Robert Johansson. December corn was down 2 1/4 cents in response to USDA's corn planting estimate of 94.0 million acres for 2020, up from 89.7 million acres in 2019. Friday morning's Grains and Oilseeds Outlook will offer more details, but judging from USDA's projections in November, Friday is apt to expect 15.0 billion bushels (bb) of corn production and a sizeable increase in ending corn stocks from the latest WASDE estimate of 1.89 bb. Keep in mind USDA's Ag Outlook estimates are starting points in a long conversation as weather will play a big part in 2020 and there is plenty of uncertainty at this time of year. Friday's export estimates for corn, soybeans and wheat will also be interesting to see and may not give much credit to the phase-one agreement. Chief Economist Johansson said he only expects U.S. ag exports to be up $4 billion in 2020, far less than the $40 billion figure U.S. trade representatives promoted. March ethanol ended down 2.4 cents at $1.334 after the Energy Department said U.S. ethanol inventory hit a record high of 24.8 million barrels last week. USDA's current corn estimate of 1.89 bb of U.S. ending stocks offers support to cash corn prices at current levels, but there is still plenty to learn about the new 2020-21 season. Technically, the trend for cash corn remains sideways with noncommercials slightly net long. DTN's National Corn Index closed at $3.68 Wednesday, 12 cents below the March contract. In outside markets, the U.S. dollar is trading up 0.14 at a new two-year high as the U.S. economy offers stability at a time of low world growth.
Links to Market Analysis
Ag Center – Cattle Report
Livestock Marketing Information Center
Kansas State – AgManager.info
North Dakota State – Livestock Economics
University of Missouri – Farm Marketing
CattleFax
Grain Market News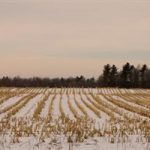 February 20, 2020 @ 1:43 pm
ARLINGTON, Va. (DTN) — USDA's initial outlook for 2020 crops projects higher acreage for both corn and soybeans — taking up a significant amount...
Read More