Hard Red Winter Wheat Cash Price
Ordinary Protein
11%
12%
+14 to 19
Tue PM
+14 to 19
Tue PM
+14 to 19
Tue PM
South Central MT
5.81 - 5.99
6.01 - 6.16
6.13 - 6.28
Golden Triangle
5.88 - 6.07
5.98 - 6.23

6.03 - 6.36
Northeast MT
5.26 - 5.96
5.36 - 6.12
5.41 - 6.25
FOB Portland
+14
7.41 - 7.76
Tue PM
+14
7.61 - 7.96
Tue PM
+14
7.76 - 8.11
Tue PM
Dark Northern Spring Wheat Cash Prices
13% Protein
14%
15%
+12
Tue PM
+12
Tue PM
+12
Tue PM
South Central
MT
5.74 - 5.81
5.96 - 6.13
6.04 - 6.29
Golden Triangle
5.52 - 6.02
5.92 - 6.18
6.12 - 6.26
Northeast MT
4.95 - 5.56
5.43 - 5.96
5.75 - 6.28
FOB Portland
+12
7.14 - 7.27
Tue PM
+12
7.38 - 7.63
Tue PM
+12
7.50 - 7.51
Tue PM
Wheat / Durum / Barley Cash Prices
Soft White Wheat
Hard Amber Durum
Feed Barley
Steady
Tue PM
Steady
Tue PM
Steady
Tue PM
South Central MT
Golden Triangle
6.00
5.80 - 7.00
Northeast MT
5.80 - 6.50
FOB Portland
6.58 - 7.10
*priced on cwt basis
Wyoming / Nebraska / Colorado Cash Prices
Hard Red Winter Wheat
Yellow Corn
Sorghum
+14
Mon PM
+11 to 24
Mon PM
+11
Mon PM
S.E. WYO - S.W. NE
5.67 - 5.72
5.07 - 5.12
North Central COLO
6.07 - 6.32
5.57
Northwest NE
5.64 - 5.87
4.65 - 5.18
5.52 - 5.87
| | | | | | |
| --- | --- | --- | --- | --- | --- |
| Commodity | Last | Change | Open | High | Low |
| HARD RED WINTER WHEAT March 2021 | 6.4100 | 0.1375 | 6.2600 | 6.4550 | 6.2050 |
| HARD RED WINTER WHEAT May 2021 | 6.4425 | 0.1325 | 6.3025 | 6.4825 | 6.2425 |
| HARD RED WINTER WHEAT July 2021 | 6.4125 | 0.1200 | 6.2900 | 6.4475 | 6.2300 |
| HARD RED WINTER WHEAT September 2021 | 6.4275 | 0.1150 | 6.3050 | 6.4600 | 6.2525 |
| WHEAT March 2021 | 6.6525 | 0.1675 | 6.4675 | 6.6775 | 6.4125 |
| WHEAT May 2021 | 6.6425 | 0.1525 | 6.4775 | 6.6575 | 6.4200 |
| WHEAT July 2021 | 6.4750 | 0.1375 | 6.3075 | 6.4850 | 6.2650 |
| WHEAT September 2021 | 6.4650 | 0.1250 | 6.3325 | 6.4775 | 6.2725 |
| HARD RED SPRING WHEAT March 2021 | 6.3800 | 0.1200 | 6.2600 | 6.4200 | 6.2200 |
| HARD RED SPRING WHEAT May 2021 | 6.4650 | 0.1175 | 6.3450 | 6.5000 | 6.3025 |
| HARD RED SPRING WHEAT July 2021 | 6.5200 | 0.1225 | 6.3975 | 6.5500 | 6.3475 |
| HARD RED SPRING WHEAT September 2021 | 6.5675 | 0.1250 | 6.4175 | 6.5900 | 6.4175 |
| SOYBEANS March 2021 | 13.7025 | 0.2675 | 13.4825 | 13.7650 | 13.3350 |
| SOYBEANS May 2021 | 13.6950 | 0.2675 | 13.4575 | 13.7525 | 13.3250 |
| SOYBEANS July 2021 | 13.5250 | 0.2400 | 13.2900 | 13.5875 | 13.1550 |
| SOYBEANS August 2021 | 13.0225 | 0.2200 | 12.8350 | 13.0600 | 12.6825 |
| CORN March 2021 | 5.3225 | 0.2075 | 5.1300 | 5.3425 | 5.0800 |
| CORN May 2021 | 5.3375 | 0.1950 | 5.1575 | 5.3600 | 5.1050 |
| CORN July 2021 | 5.2750 | 0.1750 | 5.1050 | 5.2925 | 5.0600 |
| CORN September 2021 | 4.7050 | 0.1175 | 4.5900 | 4.7300 | 4.5575 |
Grain Market Commentary
January 26, 2021 @ 1:30 pm
DTN reports:
Early Tuesday, USDA reported China bought 53.5 million bushels of U.S. corn for export, the largest purchase by China for U.S. corn since August. March contracts of corn, soybeans and all three wheats posted a second day of double-digit gains, while the March U.S. Dollar Index is trading lower.
Wheat:
March KC wheat closed up 13 3/4 cents at $6.41 Tuesday, going along with higher closes in corn and also with higher wheat prices in France and the Black Sea. Recent news items supporting Tuesday's higher wheat prices include a report from the South China Morning Post that China bought 600,000 metric tons (mt) of wheat from Australia in December, Australia's largest 1-month total on record. As DTN Contributing Analyst Tregg Cronin reported in Tuesday's Early Word Grains, China sold 292 mb of wheat from state reserves the past two weeks, yet July common wheat on China's Dalian exchange remains expensive at the equivalent of $10.73 a bushel. Here in the U.S., Monday's winter storm laid protective snow cover on winter wheat crops in Nebraska and much of Kansas. Late Monday, state NASS offices issued good-to-excellent winter wheat crop ratings of 43% in Kansas, 68% in Montana and 20% in Texas. Oklahoma's crop was rated 61% good to excellent, but 51% of the crop is being grazed. Fundamentally, China continues to show insatiable demand for feed grains and oilseeds, reaching even into the wheat markets. U.S. wheat exports have shown no unusual activity to date, but there is potential for higher-than-expected demand yet in 2020-21 and in the new-crop season. Technically speaking, the trends remain up for all three March contracts of U.S. wheat with additional bullish help from corn and soybeans. DTN's National HRW Index closed at $6.01 Monday, down from its 6-year high. DTN's National SRW Index closed at $6.28, down from its highest price in six years.
Corn:
March corn closed up 20 3/4 cents at $5.32 1/4 Tuesday after USDA reported China bought 53.5 million bushels (mb) (1,360,000 mt) of U.S. corn and another 4.0 mb (102,800 mt) were sold to unknown destinations, both for 2020-21. Even if that was all China bought this week, it would be the highest weekly total of corn sales to China since August and follows three and a half months of quiet activity. May corn on China's Dalian exchange was down 0.4% Tuesday but is still expensive at $10.91 a bushel. We have been wondering why China refrained from buying corn for so long and Tuesday's sale confirms the view of Dalian prices that corn remains in short supply in China. With U.S. corn export commitments now at 1.93 billion bushels (bb) and no new export competition likely until at least late June, there is plenty of time for U.S. corn export sales to increase more. The 7-day forecast expects moderate to heavy rains to benefit crops in Argentina. Heavy rains in southern Brazil, however, are problematic for soybean crops nearing harvest and may add to this year's delay in planting Brazil's second corn crop. Fundamentally, Tuesday's big export sale to China revives bullish hopes for corn prices and continues to gradually increase the outlook for corn prices. From a technical view, the trend in March corn remains solidly up. Prices have traded above the 30-day average since August and the average is now at $4.80. DTN's National Corn Index closed at $4.93 Monday evening, below its 7-year high and is 19 cents below the March contract. Outside markets are quiet and the March U.S. Dollar Index is down 0.24. The International Monetary Fund predicted world GDP will be up 5.5% in 2021 and U.S. GDP will be up 5.1%. The state of California announced it will lift its stay-at-home order Monday as intensive care unit capacity is increasing.
Links to Market Analysis
Ag Center – Cattle Report
Livestock Marketing Information Center
Kansas State – AgManager.info
North Dakota State – Livestock Economics
University of Missouri – Farm Marketing
CattleFax
Grain Market News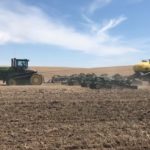 January 26, 2021 @ 2:15 pm
For the first time since 2013/14, total U.S. winter wheat planted area increased on the year as producers took advantage of dry seeding conditions...
Read More