Cash Grain Markets
Hard Red Winter Wheat Cash Price
Ordinary Protein
11%
12%
+14
Mon PM
+14
Mon PM
+14
Mon PM
South Central MT
4.34 - 4.49
4.54 - 4.69
4.69 - 4.84
Golden Triangle
4.41 - 4.60
4.56 - 4.76
4.62 - 4.89
Northeast MT
3.87 - 4.24
3.97 - 4.34
4.02 - 4.39
FOB Portland
+1
5.85 - 5.95
Tue PM
+1
5.99 - 6.09
Tue PM
+1
6.06 - 6.16
Tue PM
Dark Northern Spring Wheat Cash Prices
13% Protein
14%
15%
+15 to 16
Mon PM
+15 to 16
Mon PM
+15 to 16
Mon PM
South Central
MT
4.81 - 5.06
5.01 - 5.22
5.09 - 5.30
Golden Triangle
4.82 - 5.09
4.94 - 5.25
4.98 - 5.33
Northeast MT
4.43 - 4.73
4.51 - 4.86
4.51 - 4.90
FOB Portland
Steady
6.13 - 6.35
Tue PM
Steady
6.33 - 6.43
Tue PM
Steady
6.33 - 6.43
Tue PM
Wheat / Durum / Barley Cash Prices
Soft White Wheat
Hard Amber Durum
Feed Barley
Steady
Tue PM
Steady
Tue PM
Steady
Tue PM
South Central MT
Golden Triangle
4.00
6.50 - 6.75
Northeast MT
4.30 - 4.45
FOB Portland
5.70 - 6.00

Wyoming / Nebraska / Colorado Cash Prices
Hard Red Winter Wheat
Yellow Corn
White Millet
+14 to 15
Mon PM
+6
Mon PM
Steady to -0.50
Mon PM
S.E. WYO - S.W. NE
3.92 - 4.02
3.60 - 3.79
10.50 - 11.00
North Central COLO
3.89 - 4.05
4.09 - 4.18
Denver
4.00 - 4.05
4.09
Grain Market Commentary
DTN reports:
Weekend rain and even snow, plus a forecast that promises more rain the next 10 days fueled Monday's sharp grain and soy complex rally. As planting seriously lags the average pace in corn and soybeans, and severe weather threatens wheat, funds are scrambling to cover part of their large net short, driving prices significantly higher than a week ago in corn and wheat. Soybeans have been a reluctant follower.
Wheat:
All three wheat futures markets soared Monday, fueled by both fund buying and the prospect for wheat losses and quality issues due to the excessive rain. With major storms hitting key hard red winter states, the threat of lodging and wheat disease promises to impact hard red winter wheat (HRW) also, which has been, up to this point, in the best condition in years. Soft red winter states, such as Missouri, Illinois and Indiana look to have severe weather as well, affecting an already poorly rated SRW crop ahead of harvest. As in corn and soybeans, managed-money funds have been playing the short side of futures, as not only are U.S. ending stocks a burdensome 1.1 billion bushels, but the world has a record supply of wheat. Since the recent contract lows were established a week ago, Kansas City July has now rallied 57 cents with Chicago now up 65 cents from the lows. Funds have undoubtedly reined some of their short in since last Tuesday, but remain short a sizeable position. Should the funds decide to lift all of this short, we could see this rally extend quite a bit. Traders will be watching the Crop Progress report to see how far along spring wheat planting is, with the average guess close to 63%. DTN's National HRW Index closed at $4.05 Friday, 15 cents under the July contract and up from its lowest prices in over a year.
Corn:
The dynamic corn rally continued Monday with July corn now 47 cents per bushel higher than the lows set just a week ago. There are now two gaps left on the July chart and one on the December chart. A wet weekend, along with a 10-day forecast that shows very little open weather for planting, along with an excessively short managed-money fund position has driven corn sharply higher and into a major resistance zone. That area is $3.95 in July corn and $4.05 to $4.08 in new-crop December corn. Friday's CFTC Commitment of Traders report showed funds had only bought in 9,000 contracts of their short, leaving managed-money funds net short 298,000 contracts as of last Tuesday. Since then, they have undoubtedly covered much more of that short, but estimates are as of Monday they may still be short a hefty 230,000 corn contracts. So far, the U.S. farmer has been a reluctant seller as his/her focus is on planting, while the South American farmer is the only possible out for funds. With South American currencies lower, there has been an incentive to sell and a pick-up in farmer selling. Also adding fuel to the corn fire was the announcement the tariffs on metals on Canada and Mexico would be dropped, paving the way for a potential ratification of the North American trade pact called USMCA. Monday's USDA Crop Progress report will be huge with traders expecting a corn planted number of 45% to 50% and that would compare to 81% on average. The prevented planting date is said to be May 25 in western and northern corn areas and estimates of how many acres will not be planted are growing by the day. The yield impact on late-planted corn, with May 20 being a key cutoff, begins to escalate going forward. DTN National Corn Index closed at $3.58 Friday, 25 cents below the July contract.
Links to Market Analysis
Ag Center – Cattle Report
Livestock Marketing Information Center
Kansas State – AgManager.info
North Dakota State – Livestock Economics
University of Missouri – Farm Marketing
CattleFax
Grain Market News
Grain News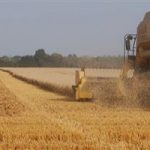 WASHINGTON (DTN) -- Senate Agriculture Appropriations Subcommittee Chairman John Hoeven, R-N.D., said Tuesday he hopes that within "a week or so" the Trump administration...
Read More