Cash Grain Markets
Hard Red Winter Wheat Cash Price
Ordinary Protein
11%
12%
-4
Fri PM
-4
Fri PM
-4
Fri PM
South Central MT
3.44 - 3.72
3.67 - 3.82
3.77 - 3.99
Golden Triangle
3.55 - 3.70
3.74 - 3.86
3.90 - 4.00
Northeast MT
2.90 - 3.41
3.10 - 3.57
3.25 - 3.70
FOB Portland
-3
4.99 - 5.09
Fri PM
-3
5.19 - 5.29
Fri PM
-3
5.34 - 5.44
Fri PM
Dark Northern Spring Wheat Cash Prices
13% Protein
14%
15%
-1 to 2
Fri PM
-1 to 2
Fri PM
-1 to 2
Fri PM
South Central
MT
4.18 - 4.35
4.38 - 4.53
4.46 - 4.61
Golden Triangle
4.21 - 4.35
4.37 - 4.51
4.45 - 4.59
Northeast MT
3.60 - 4.12
3.76 - 4.28
3.84 - 4.36
FOB Portland
-2
5.60 - 5.69
Fri PM
-2
5.80 - 5.85
Fri PM
-2
5.80 - 5.93
Fri PM
Wheat / Durum / Barley Cash Prices
Soft White Wheat
Hard Amber Durum
Feed Barley
Steady
Fri PM
Steady to +80
Fri PM
Steady
Fri PM
South Central MT
Golden Triangle
4.00
5.30 - 6.00
Northeast MT
5.00 - 5.25
FOB Portland
5.70 - 5.80
Wyoming / Nebraska / Colorado Cash Prices
Hard Red Winter Wheat
Yellow Corn
White Millet
+4 to 5
Thu PM
+7
Thu PM
Steady
Thu PM
S.E. WYO - S.W. NE
3.32 - 3.45
3.40 - 3.62
8.25 - 9.00
North Central COLO
3.44 - 3.65
3.92 - 3.94
Denver
3.64
3.92
Grain Market Commentary
September 13, 2019 @ 1:30 pm
DTN reports:
December corn ended up 1 1/2 cents and November soybeans were up 3 1/4 cents, helped by small trade concessions from the U.S. and China ahead of their October meeting. All three wheats were slightly lower Friday, but finished higher on the week.
Wheat:
December KC wheat fell back 3 3/4 cents to $3.99 3/4 Friday, but was able to hold a gain of 6 1/2 cents on the week with help from this week's higher corn price. Thursday's WASDE report had nothing bullish to offer wheat prices as U.S. ending stocks were unchanged at 1.104 bb. World ending wheat stocks were a little higher, at 286.51 mmt or 10.53 bb, which is still a new record high. Australia's crop estimate was reduced from 21 mmt to 19 mmt (698 mb) and other countries saw slight tweaks, but the new world crop estimate of 765.53 mmt or 28.13 bb is still a record high in 2019, an ongoing bearish weight on wheat prices. Friday's weather map shows rain in Oklahoma and scattered showers in north-central Texas, but the southern half of the southwestern U.S. Plains remains dry and winter wheat planting is set to start soon. With cash HRW wheat prices well below $4.00 across Kansas, winter wheat planting may not be very enthusiastic this fall, but cotton prices aren't offering much alternative. Technically, the trends remain down for all three cash wheats, but DTN's SRW Wheat Index has a chance of holding sideways. DTN's National HRW Index closed at $3.72 Thursday, up from its lowest price in two years and 31 cents below the December contract. DTN's National SRW Index closed at $4.66, up from the lowest price in three months.
Corn:
December corn ended up 1 1/2 cents at $3.68 3/4 Friday, a quiet day of trading that finished the week with a 13 1/4-cent gain. A late pace of denting, especially in northern states continues to present a risk to the 2019 corn crop, but so far, temperatures are staying beneficially warm and there is no cold threat for at least the next two weeks. The seven-day forecast is mostly dry for the Corn Belt and this week's U.S. Drought Monitor was similar to last week's. Thursday's new ending corn stocks estimate of 2.19 billion bushels (bb) from USDA did not help Friday's corn prices, but the real assessment of this year's late-planted crop won't be well-known until the later stages of harvest, possibly in November or later. On the demand side, Brazil's FOB corn price is 11 cents cheaper than at the U.S. Gulf, a bargain that is slowly diminishing. Fundamentally speaking, any U.S. ending stocks estimate near 2 bb keeps cash corn prices in the same sideways trading range that we have seen since 2015. Seasonally, early October typically shows the lowest cash corn prices of the year, but it is fair to wonder if the low will arrive later with a later harvest. Technically, the trend in cash corn remains down with prices extending their 2019 low. DTN's National Corn Index closed at $3.53 Thursday, up from the lowest in over three months and 15 cents below the December contract. In outside markets, the Dow Jones Industrials are modestly higher and the December U.S. dollar index is down 0.07. Other commodities were mixed with December gold down $10.40.
Links to Market Analysis
Ag Center – Cattle Report
Livestock Marketing Information Center
Kansas State – AgManager.info
North Dakota State – Livestock Economics
University of Missouri – Farm Marketing
CattleFax
Grain Market News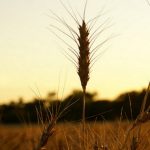 September 13, 2019 @ 1:51 pm
Congress is back in session and there is a big push from agriculture country to pass the United States-Mexico-Canada Agreement. Farmers for Free Trade...
Read More