Hard Red Winter Wheat Cash Price
Ordinary Protein
11%
12%
-2 to 8
Fri PM
-2 to 8
Fri PM
-2 to 8
Fri PM
South Central MT
3.70 - 3.97

4.00 - 4.15
4.25 - 4.40
Golden Triangle
3.99 - 4.04
4.11 - 4.15

4.16 - 4.28

Northeast MT
3.25 - 4.19
3.45 - 4.39
3.62 - 4.54
FOB Portland
-2
5.26 - 5.36
Fri PM
-2
5.46 - 5.56
Fri PM
-2
5.61 - 5.71
Fri PM
Dark Northern Spring Wheat Cash Prices
13% Protein
14%
15%
-2
Fri PM
-2
Fri PM
-2
Fri PM
South Central
MT
4.30 - 4.53
4.54 - 4.69
4.66 - 4.81
Golden Triangle
4.27 - 4.61
4.59 - 4.77
4.75 - 4.85
Northeast MT
3.23 - 4.20
3.55 - 4.54
3.79 - 4.74
FOB Portland
-2
5.74 - 5.81
Fri PM
-2
5.90 - 6.05
Fri PM
-2
5.98 - 6.17
Fri PM
Wheat / Durum / Barley Cash Prices
Soft White Wheat
Hard Amber Durum
Feed Barley
Steady to -5
Fri PM
Steady
Fri PM
Steady to -35
Fri PM
South Central MT
Golden Triangle
4.50 - 5.00
5.65
Northeast MT
5.25 - 5.75
FOB Portland
5.50 - 5.59
*priced on cwt basis
Wyoming / Nebraska / Colorado Cash Prices
Hard Red Winter Wheat
Yellow Corn
White Millet
-1 to 5
Fri PM
-1 to 3
Fri PM
Steady
Thu PM
S.E. WYO - S.W. NE
3.65 - 3.70
2.88 - 3.18
13.00 - 15.00
North Central COLO
3.96 - 4.26
3.40 - 3.53
Denver
4.23 - 4.26
| | | | | | |
| --- | --- | --- | --- | --- | --- |
| Commodity | Last | Change | Open | High | Low |
| HARD RED WINTER WHEAT September 2020 | 4.1550 | -0.0175 | 4.1700 | 4.2000 | 4.0975 |
| HARD RED WINTER WHEAT December 2020 | 4.2725 | -0.0100 | 4.2775 | 4.3075 | 4.2075 |
| HARD RED WINTER WHEAT March 2021 | 4.3825 | -0.0150 | 4.3975 | 4.4200 | 4.3275 |
| HARD RED WINTER WHEAT May 2021 | 4.4675 | -0.0150 | 4.4850 | 4.4950 | 4.4175 |
| WHEAT September 2020 | 4.9550 | -0.0575 | 5.0125 | 5.0375 | 4.9050 |
| WHEAT December 2020 | 5.0350 | -0.0475 | 5.0850 | 5.1100 | 4.9850 |
| WHEAT March 2021 | 5.1175 | -0.0475 | 5.1650 | 5.1875 | 5.0650 |
| WHEAT May 2021 | 5.1725 | -0.0500 | 5.2300 | 5.2425 | 5.1200 |
| HARD RED SPRING WHEAT September 2020 | 4.9450 | -0.0150 | 4.9550 | 4.9775 | 4.9100 |
| HARD RED SPRING WHEAT December 2020 | 5.1050 | -0.0025 | 5.1075 | 5.1250 | 5.0650 |
| HARD RED SPRING WHEAT March 2021 | 5.2525 | -0.0025 | 5.2500 | 5.2650 | 5.2175 |
| HARD RED SPRING WHEAT May 2021 | 5.3525 | -0.0050 | 5.3550 | 5.3600 | 5.3200 |
| SOYBEANS August 2020 | 8.7025 | -0.1050 | 8.7800 | 8.7875 | 8.7100 |
| SOYBEANS September 2020 | 8.6575 | -0.0900 | 8.7575 | 8.7575 | 8.6450 |
| SOYBEANS November 2020 | 8.6750 | -0.1050 | 8.7875 | 8.7950 | 8.6675 |
| SOYBEANS January 2021 | 8.7400 | -0.1050 | 8.8550 | 8.8575 | 8.7350 |
| CORN September 2020 | 3.0775 | -0.0350 | 3.1100 | 3.1175 | 3.0725 |
| CORN December 2020 | 3.2075 | -0.0300 | 3.2350 | 3.2425 | 3.2000 |
| CORN March 2021 | 3.3275 | -0.0275 | 3.3550 | 3.3575 | 3.3175 |
| CORN May 2021 | 3.4125 | -0.0250 | 3.4350 | 3.4400 | 3.4000 |
Grain Market Commentary
DTN reports:
New-crop contracts of corn, soybean meal, KC wheat and Minneapolis wheat all posted their lowest weekly closes Friday as crops are largely thriving in this year's good weather. The September U.S. Dollar Index added to some of the bearish pressure, trading up 0.66 after the U.S. Labor Department reported a lower unemployment rate in July.
Wheat:
September KC wheat fell 1 3/4 cents to a new contract low of $4.15 1/2 Friday, while the bearish case for wheat prices finds no opposition to offer support. This week heard about higher private wheat crop estimates for Russia and Canada and a forecast for beneficial rain in Australia. The latter stage of the HRW wheat harvest is also going well with high yields reported in the Dakotas. World wheat production is looking good overall and USDA will probably increase its estimate of both, U.S. and world ending wheat stocks in Wednesday's WASDE report. Wheat exports are up 9% in the new season from a year ago, which is slightly helpful. The worst part of wheat demand in 2020-21 is that feed wheat will find it difficult to compete with abundant supplies of cheap corn. Spring wheat harvest may have been interrupted Friday as rain moved across part of the Dakotas, but the 7-day forecast is mostly dry and favorable for further progress. September Minneapolis wheat closed down 1 1/2 cents at another new contract low of $4.94 1/2. Fundamentally, the bears are currently in control with no major production problems seen in 2020-21. From a technical view, the trend has turned sideways for cash SRW wheat and is down for cash HRW and HRS wheats. DTN's National HRW Index closed at $3.96 Thursday, breaking below support at $4.00. DTN's National SRW Index closed at $4.80, down from a 3-month high.
Corn:
December corn ended down 3 cents at $3.20 3/4 Friday, a new weekly low with numerous bearish concerns weighing on prices. Friday's weather map shows light to moderate showers in the northwestern and southwestern U.S. Plains, rain that is expected to expand across the Corn Belt the next seven days. Western Iowa, however, will only see light amounts and remains the sore spot of drought in the Corn Belt. The 6- to 10-day forecast expects above normal temperatures with below normal precipitation in the Western Corn Belt, mostly normal precipitation in the central and Eastern Corn Belt. There is a risk of yields being limited in the Western Corn Belt, but Wednesday's WASDE report will likely show an increase in USDA's 15.0 billion bushel (bb) crop estimate, possibly to 15.3 bb or higher. The expectation for a large fall harvest is bearish enough, but corn demand is also a concern with ethanol production limited and exports down 17% from a year ago. Fundamentally, it is difficult to find a bullish argument for corn prices as we approach harvest and that leaves prices vulnerable to a lack of support. Technically, the trend in cash corn remains sideways with numerous bearish factors pressuring prices lower. DTN's National Corn Index closed at $2.90 Thursday evening, near a 2-month low and 22 cents below the September contract. Outside markets lean bearish Friday with the September U.S. Dollar Index trading up 0.66. The U.S. Labor Department said nonfarm payrolls were up 1.8 million in July, more than expected. The U.S. unemployment rate fell from 11.1% in June to 10.2% in July, showing some recovery from the economic hit suffered in the second quarter.
Links to Market Analysis
Ag Center – Cattle Report
Livestock Marketing Information Center
Kansas State – AgManager.info
North Dakota State – Livestock Economics
University of Missouri – Farm Marketing
CattleFax
Grain Market News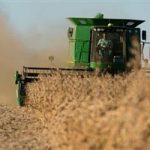 August 7, 2020 @ 10:15 am
The American Farm Bureau Federation is asking the USDA to extend the application deadline for the Coronavirus Food Assistance Program (CFAP). AFBF, along with...
Read More