Cattle
Choice Fed Steers
Steady
123 - 125
As of 1/24/20
Top
127
Dressed Basis
Steady to -1
198 - 199
As of 1/24/20
Top
199.50
Boxed Beef Cutout
-0.83
214.49
100 Loads
Fri PM
Hogs
| | | |
| --- | --- | --- |
| Western Cornbelt | +1.98 | 53.45 |
| Iowa Lean Average | +2.16 | 53.83 |
January 24, 2020 @ 3:00 pm
DTN reports:
It may have been a shortened week but with the up and downs throughout the complex, contracts are exhausted and traders are looking forward to taking the weekend off from this week's madness.
LIVE CATTLE:
One week of steady cash cattle prices was acceptable, but feeders are having a hard time swallowing the fact that fats sold again for most steady money this week. Cash cattle trade was strange this week, taking place mostly on Wednesday with a little bit of clean up on both Thursday and Friday. Trade was fully steady in the South at $124 and steady to $1.00 lower in the North at $199 to $199. It didn't help that the board was anxious all week and traded lower most days. Near Friday's close there started to be some slightly optimism in the nearby contracts, as buyers saw some buying potential. February live cattle close $0.17 higher at $124.85, April live cattle closed $0.12 higher at 124.30 and June live cattle closed $0.30 lower at $116.02.
Boxed beef prices are lower: choice down $0.83 ($214.49) and select down $0.50 ($210.70) with a movement of 100 loads (62.84 loads of choice, 16.18 loads of select, 5.57 loads of trim and 15.11 loads of ground beef). Friday's slaughter is estimated at 122,000 head, 6,000 head more than a week ago and 5,000 head more than a year ago. Saturday's slaughter is expected to be 35,000 head.
MONDAY'S CASH CATTLE CALL:
Steady. Coming off Friday's slightly bearish COF report, the market will potentially keep in its same lower nature. A lot of pressure is sitting on the cash cattle market as feeders will have to strategically play their cards if they want to see the prices that the first quarter typically yields.
FEEDER CATTLE:
Simply put, feeder cattle contracts had a rough week with little hope to ever trade higher through this week's tumble. As the cash cattle market sold early and for steady money — and dipped lower and lower on the board — the feeder cattle complex had little room to move higher. January feeders closed $0.92 lower at $141.85, March feeders closed $0.85 lower at $139.67 and April feeders closed $0.97 lower at $142.50. On Thursday at the Ogallala Livestock Auction in Ogallala, Nebraska, 5,215 feeders sold compared to last week steers were $1.00 to $4.00 higher, except 700 pound steers were $3.00 lower. Heifers were steady to $5.00 lower, except 550 pound heifers were $6.00 higher. The CME feeder cattle index 1/23/2020: not available at this time.
Links to More Futures Prices
Settlements on all Ag Futures and Options
Futures Quotes – Montana Market Manager – (AgriCharts)
Links to Market Analysis
Ag Center – Cattle Report
Livestock Marketing Information Center
Kansas State – AgManager.info
North Dakota State – Livestock Economics
University of Missouri – Farm Marketing
CattleFax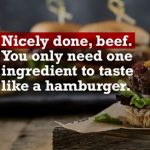 January 23, 2020 @ 4:24 pm
Ever wonder what's in fake meat? Take a look at the label Here are the facts about beef and alternative proteins: • Meat alternatives...
Read More