Choice Fed Steers
-7
112 - 113
As of 4/2/20
Top
113
Dressed Basis
-9
178 - 180
As of 4/2/20
Top
180
Boxed Beef Cutout
-2.53
232.64
115 Loads
Thu PM
| | | |
| --- | --- | --- |
| Western Cornbelt | -7.11 | 43.68 |
| Iowa Lean Average | -7.17 | 43.62 |
| | | | | | |
| --- | --- | --- | --- | --- | --- |
| Commodity | Last | Change | Open | High | Low |
| LIVE CATTLE April 2020 | 88.33 | -4.50 | 91.05 | 95.25 | 88.33 |
| LIVE CATTLE June 2020 | 80.78 | -2.30 | 82.40 | 87.40 | 80.50 |
| LIVE CATTLE August 2020 | 83.63 | -0.98 | 84.30 | 89.10 | 82.75 |
| LIVE CATTLE October 2020 | 87.48 | -0.48 | 87.70 | 92.45 | 86.45 |
| FEEDER CATTLE April 2020 | 108.65 | -2.03 | 110.13 | 115.98 | 108.65 |
| FEEDER CATTLE May 2020 | 108.38 | -3.28 | 110.65 | 116.20 | 107.63 |
| FEEDER CATTLE August 2020 | 114.38 | -3.28 | 116.50 | 122.15 | 113.78 |
| FEEDER CATTLE September 2020 | 115.93 | -1.93 | 116.60 | 122.88 | 115.30 |
| LEAN HOGS April 2020 | 42.20 | -2.50 | 41.83 | 42.50 | 40.78 |
| LEAN HOGS May 2020 | 41.78 | -3.70 | 43.90 | 43.90 | 40.98 |
| LEAN HOGS June 2020 | 48.33 | -4.50 | 48.90 | 49.38 | 48.33 |
| LEAN HOGS July 2020 | 52.73 | -4.50 | 53.53 | 54.25 | 52.73 |
DTN reports:
Expanded trading limits were hit in all livestock markets as active market pressure developed across cattle and hog futures. The underlying weakness is causing additional end of the week concerns in all sectors of the industry.
LIVE CATTLE:
The bad news in cattle trade continues to develop as expanded trading limits developed for the second consecutive day. This move pushed most nearby contracts to new contract lows and below support levels seen during the middle of March. Even though April futures are holding slightly above support levels, the lack of active trade in the April contract gives this limited leverage. The continued idling of JBS's beef plant in Pennsylvania does very little to change production capacity, but it does severely limit access to markets for producers in the Eastern half of the U.S. This points to how fragile local and regional markets can be even though it may not have a significant widespread impact on the entire industry.Live cattle contracts closed the day at the expanded limits mark, $4.50 lower throughout the complex. April live cattle closed $4.50 lower at $92.82, June live cattle closed $4.50 lower at $83.07 and August live cattle closed $4.50 lower at $84.60.
Cash cattle activity remained at a standstill Thursday with bids undeveloped heading into late afternoon. Although asking prices are holding above Wednesday's cash trade levels with cattle priced at $114 to $115 live basis in the South and $183 and higher dressed in the North, it will be another late week affair as both sides push any decisions into Friday.
Boxed beef prices lower: choice down $2.53 ($232.64) and select down $3.01 ($222.12) with a movement of 115 loads (64.44 loads of choice, 12.04 loads of select, 26.49 loads of trim and 12.42 loads of ground beef). Despite not hitting record daily losses for a third consecutive day, the significant pressure in meat values is adding increased weakness to the entire market.
FRIDAY'S CASH CATTLE CALL:
Lower. Quiet cattle trade most of the day Thursday is setting up for more end of the week activity. Given the extreme pressure in the market, it is uncertain how many cattle will get sold this week, as some feeders may opt to hold onto cattle and wait for support next week.
FEEDER CATTLE:
Intense price pressure developed in all feeder cattle trade with extended trading limits seen in all contracts through October 2020. The fact that live cattle futures were unable to show any sign of life has created increased weakness through the cattle complex that may continue through the end of the week or longer.April feeders closed $6.75 lower at $110.67, May feeders closed $6.75 lower at $111.65 and August feeders closed $6.75 lower at $117.65.The CME feeder cattle index 4/1/2020: not available at this time.
Links to More Futures Prices
Settlements on all Ag Futures and Options
Futures Quotes – Montana Market Manager – (AgriCharts)
Links to Market Analysis
Ag Center – Cattle Report
Livestock Marketing Information Center
Kansas State – AgManager.info
North Dakota State – Livestock Economics
University of Missouri – Farm Marketing
CattleFax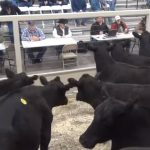 CHEYENNE – The Wyoming Department of Agriculture (WDA) and Wyoming Livestock Board (WLSB) released COVID-19 virus guidance for livestock markets as they are exempt...
Read More