Cattle
Choice Fed Steers
+2 to 3
114 - 116
As of 11/8/19
Top
117
Dressed Basis
+1 to 2
181 - 182
As of 11/8/19
Top
185
Boxed Beef Cutout
+1.91
240.50
92 loads
Tue PM
Hogs
| | | |
| --- | --- | --- |
| Western Cornbelt | -0.18 | 42.54 |
| Iowa Lean Average | -0.17 | 42.55 |
November 12, 2019 @ 4:00 pm
DTN reports:
After the noon hour Tuesday cattle contracts made a mixed comeback and lean hog contracts fared exceptionally well.
LIVE CATTLE:
Live cattle contracts made a comeback after the noon hour Tuesdsay in deferred contracts. Closing the day mostly higher except in the spot and closest contract, live cattle contracts closed $0.02 to $0.12 higher. December live cattle are down $0.12 at $119.75, February live cattle are down $0.10 and April live cattle are up $0.10 at $127.05. Cash cattle trade has yet to present itself and most likely won't get under way until Wednesday afternoon or sometime Thursday.
Closing boxed beef prices: choice up $1.91 ($240.50) and select up $2.54 ($216.23) with a movement of 92 loads (49.38 loads of choice, 19.16 loads of select, 6.51 loads of trim and 17.34 loads of ground beef). Tuesday's slaughter is estimated at 119,000 head: steady with a week ago, and down 1,000 head from a year ago.
WEDNESDAY'S CASH CATTLE CALL:
$1.00 higher. Given that boxed beef prices are rallying still, feeder calf prices are up and that slaughter remains aggressive — cash cattle trade is aligning for another positive week so long as the board holds.
FEEDER CATTLE:
Feeder cattle contracts made the best of Tuesday after the noon hour and closed slightly higher in nearby contracts, and just mildly lower in deferred. November feeder cattle are up $0.22 at $147.80, January feeder cattle are steady at $147.12 and March feeders are up $0.12 at $146.82.
On and estimated run of 6,498 head (down 934 head from the previous week) all weights of steer calves sold steady to $2.00 higher. Heifer calves under 600 pounds sold steady to $1.00 higher with the exception of 450 to 500 pound heifers, which sold $3.00 to $5.00 higher, heifers over 600 pounds sold $3.00 to $5.00 higher with instances of $8.00 higher. Trade was very active, and demand was good. The CME feeder cattle index for 11/11/19: up $0.53 at $147.25.
Links to More Futures Prices
Settlements on all Ag Futures and Options
Futures Quotes – Montana Market Manager – (AgriCharts)
Links to Market Analysis
Ag Center – Cattle Report
Livestock Marketing Information Center
Kansas State – AgManager.info
North Dakota State – Livestock Economics
University of Missouri – Farm Marketing
CattleFax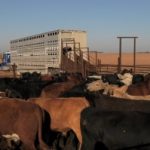 November 8, 2019 @ 6:15 am
BROOKINGS, S.D. – Beef Quality Assurance (BQA) Transportation is the latest certification needed for beef cattle haulers and producers who deliver cattle to major packing...
Read More