Cattle
Choice Fed Steers
+2
108 - 110
As of 10/11/19
Top
110
Dressed Basis
Steady to +2
170 - 172
As of 10/11/19
Top
172
Boxed Beef Cutout
+0.03
215.66
110 loads
Fri PM
Hogs
| | | |
| --- | --- | --- |
| Western Cornbelt | +0.42 | 57.10 |
| Iowa Lean Average | +0.34 | 57.12 |
October 11, 2019 @ 3:00 pm
DTN reports:
Friday's market closed higher thanks to the momentum and eagerness of a trade deal being put in place.
LIVE CATTLE:
Live cattle contracts closed higher in both nearby and deferred contracts. Gains ranged anywhere from $0.37 to $0.85 to end the week on a higher close. Some light trade has been reported in the North at $172, $2.00 higher than last week's weighted average in Nebraska, though it is for a delayed delivery. Live trade is taking place in Iowa at $109 ($2.00 higher) and bids of $108 have been placed in the South. Others continue to wait with asking prices firm at $109 to $110 in the South and $175 plus in the North. Friday afternoon boxed beef prices are up: choice up $0.03 ($215.66) and select up $2.02 ($188.68) with a light offering of movement totaling 110 loads (35.84 loads of choice cuts, 25.35 loads of select cuts, 20.73 loads of trim and 28.53 loads of ground beef).
MONDAY'S CASH CATTLE CALL:
$1 higher. Monday will be especially dull given that it's a national holiday and the countryside will most likely act on its advantageous habit of waiting to trade cattle until later in the week. Asking prices may be established as early as Monday, and with the week ending with higher cash prices and stronger boxed beef prices, it's safe to think that cash prices are going to higher again next week.
FEEDER CATTLE:
Feeder cattle markets closed lower on Friday, ranging anywhere from $0.02 to $0.20 lower, except for November feeder cattle closing up $0.12 at $144.25 and January 2020 feeder cattle closing up $0.05 at $140.47. All in all, the weather wreaking havoc over much of cow-calf country is setting into the markets as sale barns prepare for a blistery couple of days with pens stocked full of newly weaned calves. The Oklahoma Weekly Cattle Auction Summary reported that compared to last week, feeder steers sold mostly steady to $4.00 higher and feeder heifers sold steady to $3.00 higher. Demand for the calves heavily relied on the number of days weaned and shots given. Cattlemen that were able to wean their calves this week take a deep breath of relief as some of them were able to dodge the snowstorm, while others in parts of the northern country wait anxiously to see just how much snow will stick. North Dakota currently has hundreds of miles of major highways shut down in preparation of an anticipated 1- to 2-feet of snow, with wind gusts up to 65 mph. These types of conditions will surely put a damper on the feeder market. CME feeder cattle index 10/10/19: $143.63 down $1.02, and CME feeder cattle index correction for 10/09/19 is $144.65 up $0.20.
Links to More Futures Prices
Settlements on all Ag Futures and Options
Futures Quotes – Montana Market Manager – (AgriCharts)
Links to Market Analysis
Ag Center – Cattle Report
Livestock Marketing Information Center
Kansas State – AgManager.info
North Dakota State – Livestock Economics
University of Missouri – Farm Marketing
CattleFax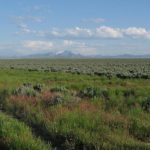 October 14, 2019 @ 12:00 pm
President Trump on Wednesday signed two executive orders to restrict federal agencies from issuing certain new rules without going through the normal regulatory process,...
Read More