Cattle
Choice Fed Steers
+3
129 - 130
As of 4/18/19
Top
132.50
Dressed Basis
+3
207 - 208
As of 4/18/19
Boxed Beef Cutout
+0.30
233.06
114 loads
Thu PM
Hogs
| | | |
| --- | --- | --- |
| Western Cornbelt | -0.45 | 77.75 |
| Iowa Lean Average | +0.26 | 78.47 |
Sheep/Goats
| | | | |
| --- | --- | --- | --- |
| Finished Lambs | (Sioux Falls, SD 4/17) | +4 | 155 - 164 |
| 60-70 lb Feeder Lambs | (Newell, SD 4/18) | | 147 - 156.50 |
| 80-100 lb Feeder Lambs | (Billings, MT 4/15) | Light Test | 150 - 169 |
| Sl. Ewes | (Newell, SD 4/18) | -3 to 4 | 38 - 41 |
| Bred Yearling Ewes | (Newell, SD 4/4) | | 230 |
| 2-3 yr old Bred Ewes | (Newell, SD 4/4) | | 225 - 250 |
| Short Term Solid Bred Ewes | (Newell, SD 4/4) | | 180 - 185 |
| 50-65 lb Sl. Goats | (Billings, MT 4/15) | | 235 - 245 |
Market Commentary
DTN reports:
Livestock futures ended mixed in quiet trade Thursday ahead of the long holiday weekend. Increased cattle placements and more cattle in feed yards detailed in Thursday's USDA Cattle on Feed report may affect market direction early next week.
LIVE CATTLE:
Live cattle futures settled mixed ($0.10 lower to $1.60 higher) in light trade. Moderate-to-strong support pushed spot-month April up $1.60 per cwt. The rest of the complex remained stuck in a narrow trading range with limited interest seen. Additional market shifts will likely be seen over the next few trading sessions following an increase in cattle on feed numbers in the USDA Cattle on Feed report Thursday, which may limit upward support. However, the focus is still on seasonal demand, which could limit any long-term pressure. Beef cut-outs: mixed, down $0.70 (select, $219.46) to up $0.30 (choice, $233.06) with light demand and offerings, 114 loads (64 loads of choice cuts, 26 loads of select cuts, 7 load of trimmings, 16 loads of coarse grinds).
FRIDAY'S CASH CATTLE CALL: 
Steady with Thursday's trade. Following trade Wednesday and Thursday where cattle sold $2 to $3 per cwt higher than week-ago levels, most trade is expected to be wrapped up for the week. Some clean-up trade may trickle into the market, but the tone is expected to have already been set.
FEEDER CATTLE: 
Moderate late-day support pushed feeder cattle futures to close $0.22 to $0.92 higher. Limited activity was seen through the entire complex with traders focusing on end-of-week positioning and overall support. The May contract led the complex higher with a 92-cent gain. The April 1 Cattle on Feed report showed a 5% increase in cattle placed in March. This was above pre-report estimates and was near the top of the range of guesses. The increase in placements is likely to be viewed as slightly bearish, although traders seem to have already factored some increased placement levels into the market over the last couple of weeks. Traders will have to wait until Monday to trade report information due to markets being closed Friday. CME cash feeder index for 4/16 is $143.58, up $0.12.
Links to More Futures Prices
Settlements on all Ag Futures and Options
Futures Quotes – Montana Market Manager – (AgriCharts)
Links to Market Analysis
Ag Center – Cattle Report
Livestock Marketing Information Center
Kansas State – AgManager.info
North Dakota State – Livestock Economics
University of Missouri – Farm Marketing
CattleFax
Livestock Market News
Livestock News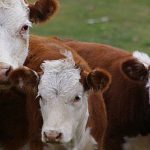 April 18, 2019 @ 11:26 am
By Jennifer Houston, National Cattlemen's Beef Association President, Sweetwater, TN   We're not even a third of the way through 2019, but we already...
Read More