Choice Fed Steers
-2 to 3
104 - 106
As of 10/26/20
Top
106.50
Dressed Basis
-4 to 5
163 - 166
As of 10/26/20
Top
166
Boxed Beef Cutout
-1.13
206.70
175 Loads
Tue PM
| | | |
| --- | --- | --- |
| Western Cornbelt | +0.56 | 63.13 |
| Iowa Lean Average | +0.73 | 63.42 |
| | | | | | |
| --- | --- | --- | --- | --- | --- |
| Commodity | Last | Change | Open | High | Low |
| LIVE CATTLE October 2020 | 104.85 | 0.88 | 104.20 | 105.03 | 104.08 |
| LIVE CATTLE December 2020 | 104.05 | 0.65 | 104.23 | 105.35 | 103.53 |
| LIVE CATTLE February 2021 | 107.03 | 0.63 | 107.03 | 108.10 | 106.43 |
| LIVE CATTLE April 2021 | 110.73 | 1.23 | 109.98 | 111.60 | 109.83 |
| FEEDER CATTLE October 2020 | 134.30 | 0.60 | 133.50 | 134.50 | 133.45 |
| FEEDER CATTLE November 2020 | 132.30 | 1.73 | 130.83 | 133.08 | 130.68 |
| FEEDER CATTLE January 2021 | 128.43 | 1.65 | 127.28 | 129.45 | 126.95 |
| FEEDER CATTLE March 2021 | 128.05 | 1.60 | 126.98 | 128.90 | 126.63 |
| LEAN HOGS December 2020 | 67.65 | -0.10 | 68.18 | 69.65 | 67.43 |
| LEAN HOGS February 2021 | 68.05 | 0.40 | 67.70 | 69.33 | 67.48 |
| LEAN HOGS April 2021 | 70.38 | 0.30 | 70.13 | 71.40 | 69.63 |
| LEAN HOGS May 2021 | 74.70 | 0.25 | 75.50 | 75.50 | 74.48 |
October 27, 2020 @ 4:00 pm
DTN reports:
Tuesday granted the livestock complex the opportunity to close higher and, with traders willing to jump into the marketplace again, the contracts did exactly that.
LIVE CATTLE:
The live cattle market took Tuesday and mustered up the most support. With cash cattle prices still at a mere standstill and boxed beef prices closing mixed, the market's most significant business for Tuesday was the futures higher close. December live cattle closed $0.65 higher at $104.05, February live cattle closed $0.62 higher at $107.02 and April live cattle closed $1.22 higher at $110.72. Tuesday's slaughter is estimated at 117,000 head, 4,000 head less than a week ago and 4,000 head more than a year ago. Monday's cattle slaughter was revised to 115,000 head.
Boxed beef prices closed mixed: choice down $1.13 ($206.70) and select up $0.18 ($188.67) with a movement of 175 loads (104.81 loads of choice, 25.52 loads of select, 17.21 loads of trim and 27.60 loads of ground beef).
WEDNESDAY'S CASH CATTLE CALL:
Steady. It wouldn't be surprising to see cash cattle trade start to develop sometime after Wednesday's Fed Cattle Exchange. If the board will support higher prices, feeders will work to get cattle sold this week for at least steady prices.
FEEDER CATTLE:
Feeder cattle contracts closed fully higher, though they didn't close as high as what the day had traded for earlier. November feeders closed $1.72 higher at $132.30, January feeders closed $1.65 higher at $128.42 and March feeders closed $1.60 higher at $128.05. Helping spark some support for the feeder cattle contracts is simply traders' willingness to jump back into the market and actively trade, along with the corn market's slight regression. At Oklahoma National Stockyards in Oklahoma City, Oklahoma, compared to a week ago, steer and heifers traded mostly $3.00 to $5.00 lower on a limited offering. The area was swept with a cold front that made shipping cattle difficult for this week's sale. The CME feeder cattle index for Oct. 26: down $0.06, $133.64.
Links to More Futures Prices
Settlements on all Ag Futures and Options
Futures Quotes – Montana Market Manager – (AgriCharts)
Links to Market Analysis
Ag Center – Cattle Report
Livestock Marketing Information Center
Kansas State – AgManager.info
North Dakota State – Livestock Economics
University of Missouri – Farm Marketing
CattleFax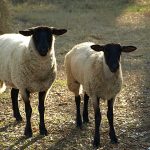 October 27, 2020 @ 2:18 pm
The National Sheep Industry Improvement Center Board of Directors announced this week the approval of seven proposals for NSIIC grants in 2020. A total...
Read More