Cattle
Choice Fed Steers
-5 to 7
105 - 107
As of 8/16/19
Top
111
Dressed Basis
-8 to 10
170 - 173
As of 8/15/19
Top
178
Boxed Beef Cutout
+3.50
242.63
45 loads
Tue AM
Hogs
| | | |
| --- | --- | --- |
| Western Cornbelt | -0.43 | 71.30 |
| Iowa Lean Average | -0.96 | 71.91 |
Sheep/Goats
| | | | |
| --- | --- | --- | --- |
| 80-100 lb Feeder Lambs | (Newell, SD 8/15) | Steady to +3 | 147 - 160 |
| 100-115 lb Feeder Lambs | (Newell, SD 8/15) | Steady | 141 - 148 |
| Sl. Ewes | (Newell, SD 8/15) | -6 | 46 - 50 |
| Finished Lambs | (Sioux Falls, SD 8/14) | Steady to -3 | 145 - 153.50 |
| 80-100 lb Feeder Lambs | (Bowman, ND 8/12) | Steady | 149 - 156.50 |
| 100-120 lb Feeder Lambs | (Bowman, ND 8/12) | Steady | 139 - 141 |
| 50-60 lb Sl. Goats | (Billings, MT 8/12) | -35 to 45 | 220 - 225 |
| 70-80 lb Feeder Lambs | (Billings, MT 8/12) | -15 to 20 | 159 - 168 |
| 80-90 lb Feeder Lambs | (Billings, MT 8/12) | -15 to 20 | 150 - 159 |
| 90-100 lb Feeder Lambs | (Billings, MT 8/12) | -15 to 20 | 145 - 154 |
| 100-120 lb Feeder Lambs | (Billings, MT 8/12) | Steady to -5 | 138 - 149 |
| Sl. Ewes | (Billings, MT 8/12) | -10 to 15 | 41 - 47 |
| Sl. Ewes | (Bowman, ND 7/29) | +5 | 54.50 - 59 |
| 80-100 lb Feeder Lambs | (Northern Livestock Video 7/23) | Fall Delivery | 159 - 170.50 |
| 100-110 lb Feeder Lambs | (Northern Livestock Video 7/23) | Fall to Winter Delivery | 148 - 157.50 |
| 110-120 lb Feeder Lambs | (Northern Livestock Video 7/23) | Fall to Winter Delivery | 144 - 147 |
| Yrl. Ewes | (Northern Livestock Video 7/23) | Per Head | 220 - 240 |
Market Commentary
August 20, 2019 @ 3:00 pm
DTN reports:
Triple-digit gains in live cattle trade Tuesday helped to push October live cattle back to $100 per cwt. Support also developed in lean hog futures, helping put distance from long-term lows.
LIVE CATTLE:
Futures closed $0.25 to $1.60 higher. Live cattle futures were not only able to bring buyers to the table early Tuesday, but for the first time since early July, nearby futures posted triple-digit gains at closing bell. Tuesday's $1.77-per-cwt rally in October futures was the largest one-day gain since July 9, when the contract rallied $1.90 per cwt. Although the complex remains under significant pressure following last week's losses and uncertainty over beef plants' ability or desire to increase output over the next several weeks, traders are backing away from long-term support levels. The October contract closed at $100 per cwt, the highest price in the last week. The ability to move contracts to a triple-digit price had become more of a psychological barrier than a technical roadblock to this point. Traders will closely monitor initial trade Wednesday morning, as the ability to hang onto recent gains will be a huge factor in sparking additional buyer support. Beef cut-outs: mixed, down $0.25 (select, $214.27) to up $2.57 (choice, $241.70) with good demand and moderate offerings, 94 loads (41 loads of choice cuts, 26 loads of select cuts, 12 loads of trimmings, 14 loads of coarse grinds).
WEDNESDAY'S CASH CATTLE CALL:
Steady to higher. Strong futures gains and firming beef values would likely point to cash market firmness. But packer interest so far this week has been silent, creating expectations that any business will be delayed until late in the week.
FEEDER CATTLE:
Futures closed $0.12 lower to $0.90 higher. Limited support held late Tuesday following strong early gains. But even though pressure was seen in corn trade, early buyer support couldn't be sustained and traders backpedaled from morning gains. Compared to the live cattle complex, feeder cattle have seen a significantly better recovery from last week's losses. But prices remain $3 per cwt below levels seen before the Tyson plant fire. Gains over the near future may be more difficult to achieve as traders remain concerned about large feeder cattle numbers moving into the system the rest of summer. Early estimates for Friday's Cattle on Feed report show generally steady placement numbers in July. This could help stabilize the market, but is unlikely to lead to active support. CME cash feeder index for 8/16 is unavailable at this time.
Links to More Futures Prices
Settlements on all Ag Futures and Options
Futures Quotes – Montana Market Manager – (AgriCharts)
Links to Market Analysis
Ag Center – Cattle Report
Livestock Marketing Information Center
Kansas State – AgManager.info
North Dakota State – Livestock Economics
University of Missouri – Farm Marketing
CattleFax
Livestock Market News
Livestock News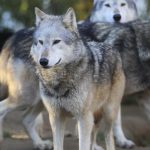 August 20, 2019 @ 1:18 pm
The Montana Livestock Loss Board is receiving a $90,000 federal grant for non-lethal loss prevention efforts due to wolves. Producers can apply to the...
Read More