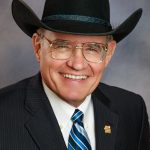 Taylor Brown is widely known as one of the nation's leaders in the field of agricultural broadcasting, and has played a huge role in western agriculture since he joined the Northern Ag Network as a regional farm broadcaster in 1979. Today he and his wife Shannon own the Northern Broadcasting System, and its flagship radio station KGHL (AM790 and 94.7FM) in Billings.
Born in Sheridan, Wyoming, Taylor Brown grew up on his family's cattle ranch in eastern Montana near Sand Springs. He attended high school in Lewistown where he was active in FFA and earned his bachelor's degree in Agriculture from Montana State University in Bozeman, where he served as the Student Body President.
A past National President of the National Association of Farm Broadcasting, Taylor served 12 years as the President of the NAFB Foundation. His many achievements in the broadcasting industry include being named America's "Farm Broadcaster of the Year", and receiving the prestigious "Oscar in Agriculture" award for radio, and being inducted into the NAFB Hall of Fame in 2010.
Serving two terms in the Montana Senate from 2009-16, Brown was elected Majority Whip, and chaired the Senate Agriculture Committee, as well as the Senate Education Committee. Brown is known as an advocate for rural farm and ranch families, and his support of 4-H, FFA, Alpha Gamma Rho Fraternity and the REAL Montana leadership program.
Taylor and Shannon have been married since 1980, and are active in the Huntley Project community just east of Billings. Their son Travis and his wife Mary operate the family's LO Cattle Company ranch in Garfield County. Their son Colter Brown, daughter Courtney Kibblewhite, and her husband Jonathan lead the management team at Northern Broadcasting.