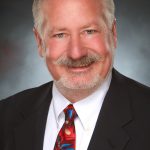 As a Director of National Sales, Augie Aga brings more than 30 years experience in radio and television advertising sales to the Northern Broadcasting System team. His focus is on national sales for the Northern Ag Network, Northern News Network, Northern Sports Networks and their web portals.
Augie received his bachelor's degree in Communications from the University of Minnesota – Duluth. He is also certified as a Manager of Radio Marketing and a Certified Digital Marketing Consultant.
Having grown up in Minnesota, Augie wandered west to Montana in 1984 to be a ski bum, working in a Billings ski shop. After five years in the ski biz he figured he better put his college degree to work and joined the sales department at KBLG-AM and KRKX-FM. Growing from two stations, to a cluster of six stations, Augie has worn just about every hat in the stations sales department… Account Executive, Local Sales Manager, National Sales Manager, General Sales Manager and even General Manager. Augie's vast advertising, marketing and management experience, he knows that every client is different. He believes in helping his clients succeed in today's fast changing business environment by building customized marketing solutions utilizing both traditional and new media platforms.
Augie lives at the foot of the Beartooth Mountains in Red Lodge, Montana. He enjoys spending his free time in the mountains, skiing, camping, fishing, and hiking. Augie is still a ski bum, having skied at least one day every month, for more than 24 years (296 months in a row at last count). Augie's perfect day is skiing in the morning, golfing in the afternoon and fly-fishing in the evening.